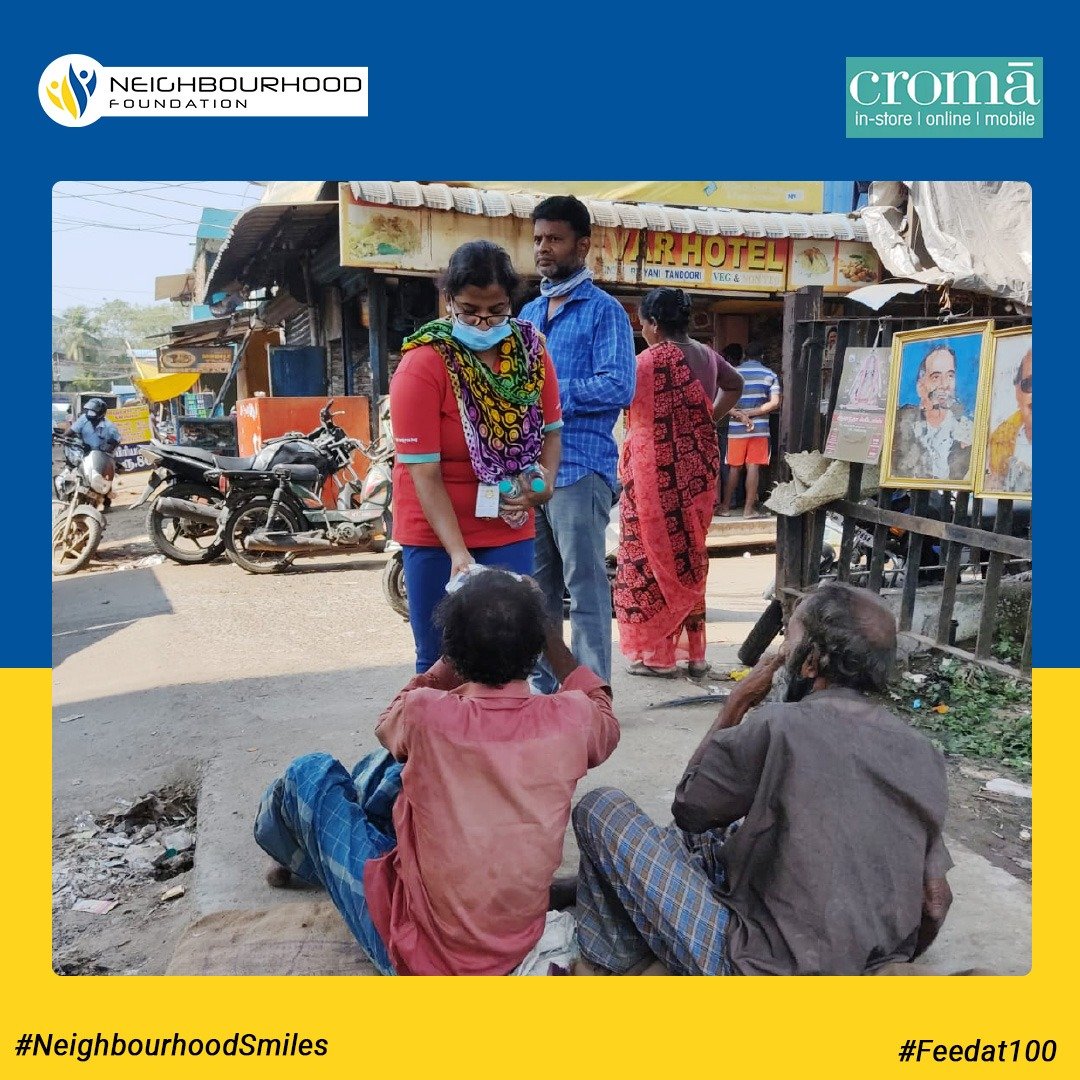 Feed@100 - Croma (Chrompet)
We are delighted to inform you that another installment of Feed@100 was organized on 3rd February in association with Croma, Chrompet branch. The food distribution was done between 1PM-3PM. We were able to remove the hunger of 200 people on this drive.
The food distribution was coordinated by Manoj and Sneha. The distribution was done in areas around Chrompet bridge, Chrompet bus stand, Chrompet TB Hospital, Sanatorium station and Tambaram.
Neighbourhood Foundation thanks Chrompet Croma, for their unconditional support and appreciate their mutual interest in creating a hunger free world.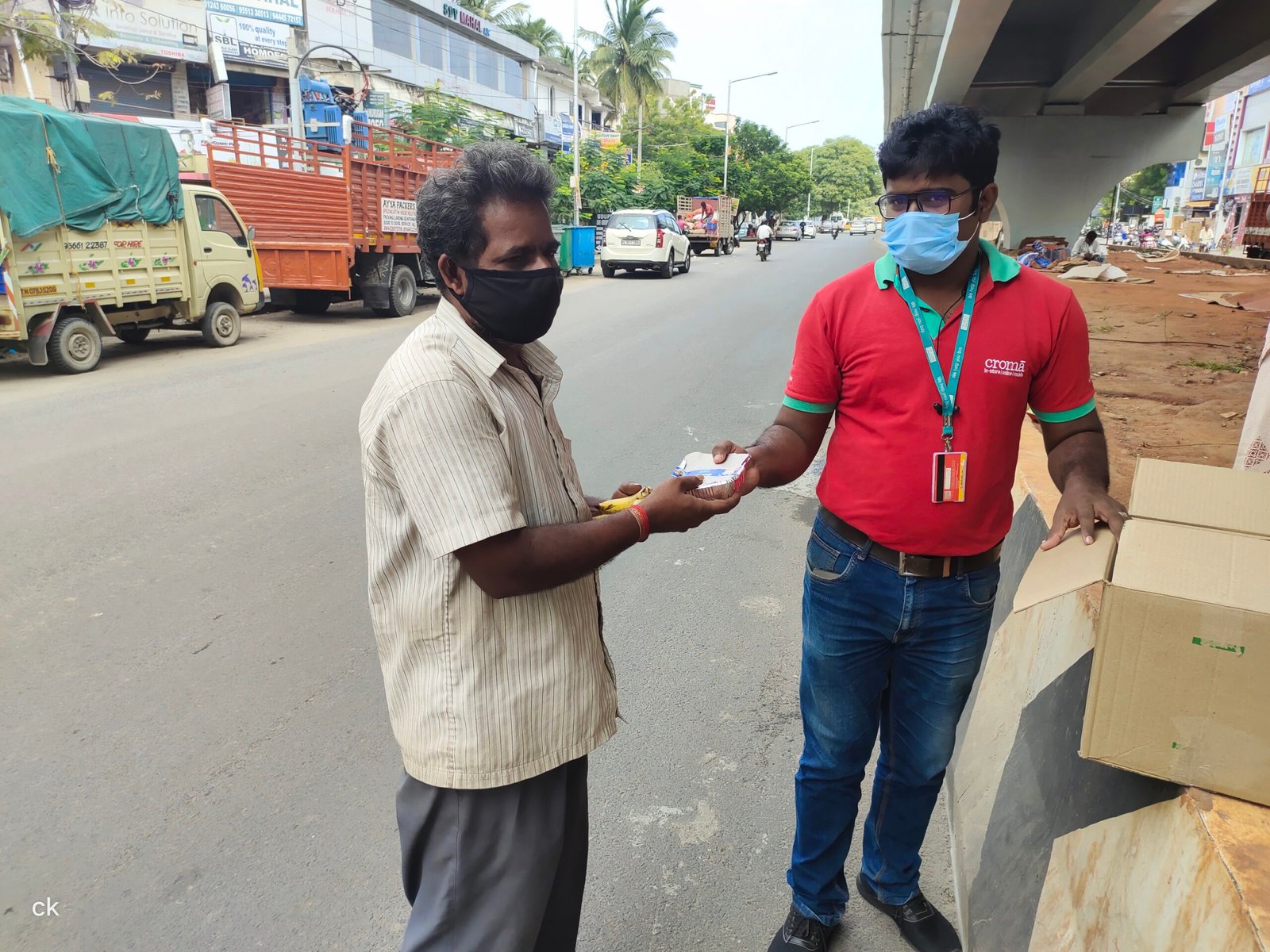 Neighbourhood Foundation X Tata Croma
( Velachery )
Feed Update!
As 2022 has just been born, the Neighbourhood Foundation began the year by launching its first feeding drive on 05th January 2022. Volunteers of Neighbourhood Foundation and TATA Croma distributed 60 food packets to the underprivileged, identified across the localities of Velachery, , Vijayanagar,Velachery New Bridge, and Adambakkam Main Road.
We are grateful to TATA Croma of (Phoenix Marketcity) this time for supporting our first feeding drive of 2022.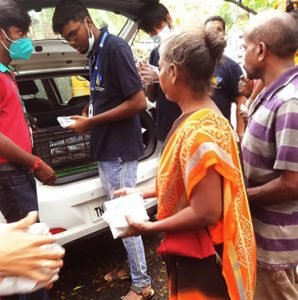 Food Donation drive with Tata Croma, T. Nagar
Neighbourhood Foundation is on a feeding streak!
On a rainy day in Chennai, we got into action once more to implement our next food distribution drive. Backed by TATA Croma once again, on 17th November, 2021 we went on to distribute 150 food packets at T.Nagar, Kodambakkam, Choolaimedu and TP Chathiram around 12:00 P.M and 02:00 P.M.
We once again thank TATA Croma (T. Nagar) and their employees for volunteering actively with us in supporting the needy with food on the moment.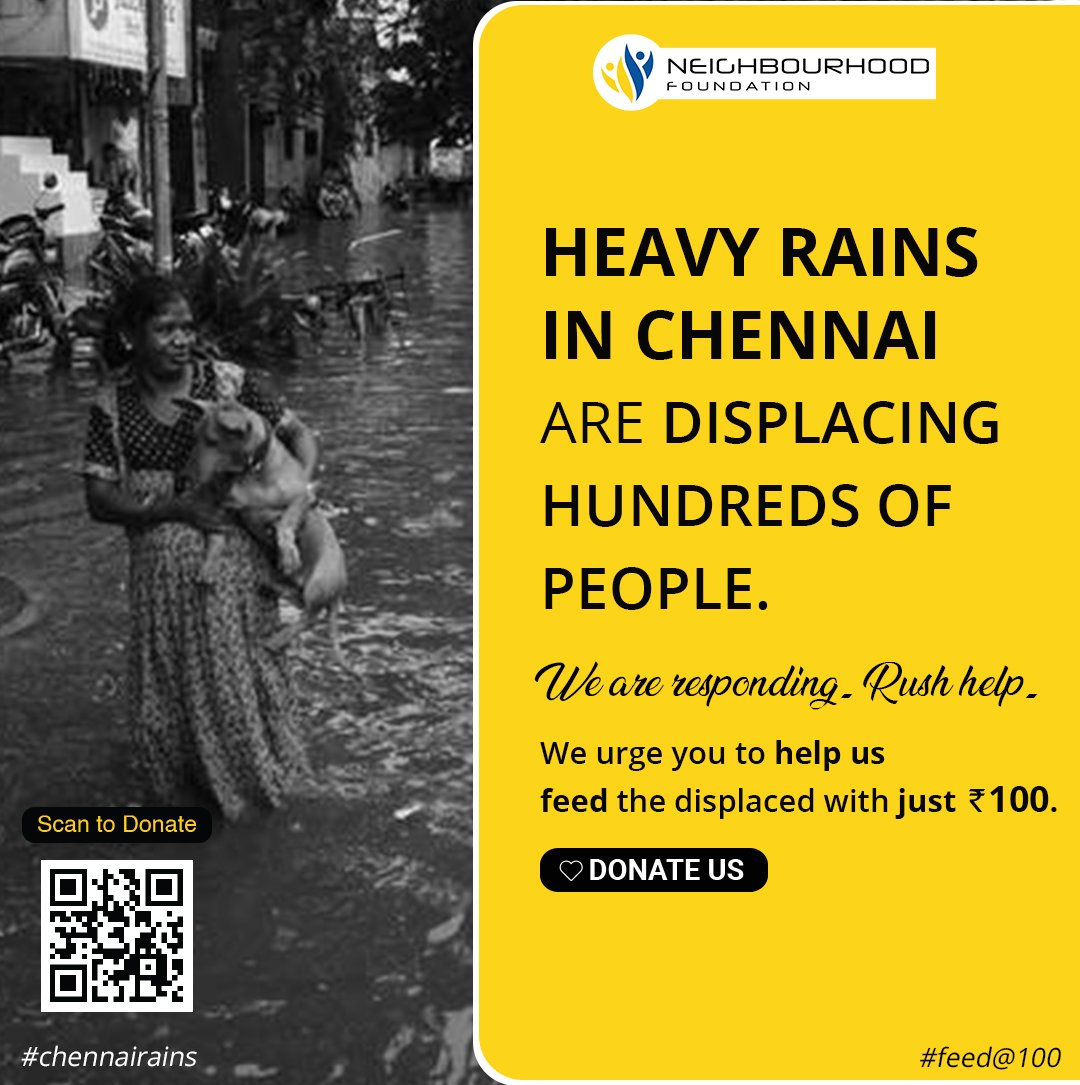 Neighbourhood Foundation × Tata Croma - Mount Road: The Rainy day won't keep us away.
Amidst the times of a Red Alert for heavy rainfall issued to Chennai City, Neighbourhood Foundation got to the grounds of Chennai once again to fulfill its mission towards Zero Hunger.
This time in collaboration with TATA Croma – Mount Road we distributed 100 free meals in the localities of Mount Road, Triplicane and Teynampet to the hunger stricken around the time 12:00 P.M and 02:00 P.M.
The drive was successfully implemented despite the heavy downpour in the city for the past 2 days. And, we thank TATA Croma – Mount Road in their support to us in reaching out to the utmost needy people in the tough situations.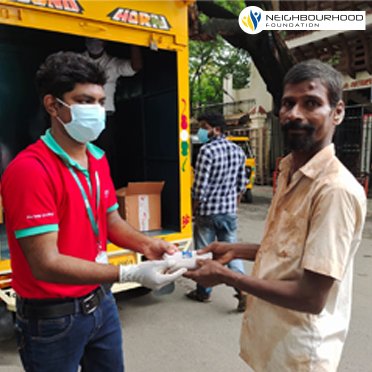 Tata Croma x Neighbourhood Foundation:
On October 30th, 2021 Neighbourhood Foundation conducted its Feed@100 food distribution drive in association with Tata Croma (Anna Nagar). This time with the support from Tata Croma, we were able to distribute around 100 food packets to the hunger-stricken people around the localities of Padi, Thirumangalam and Koyambedu in Chennai around 01:00 P.M – 03:00 P.M.
Neighbourhood Foundation thanks Tata Croma for their support to us in this drive and appreciate their mutual interest with us to create a hunger free world.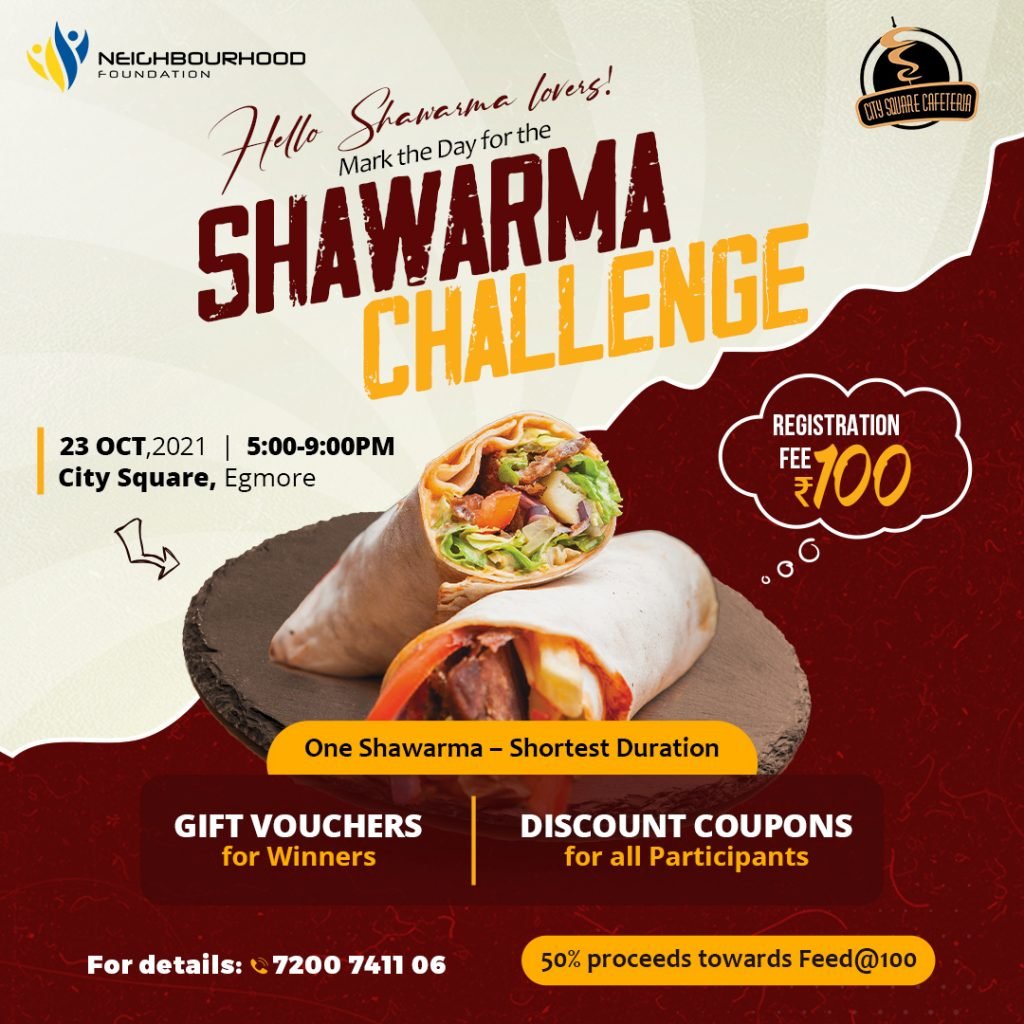 Neighbourhood Foundation organised a Shawarma challenge in collaboration with City Square Cafeteria, Egmore on 23rd October, 2021 from 5pm – 9pm. The challenge was to complete one shawarma in the shortest duration, the participant who finishes the shawarma in shortest time would be declared as the winner. The participation fee for the challenge was Rs.100 and 50% of the participation fee will go towards the Feed@100 program through which our organization provides food to the homeless people and animals.
In over 4 hours of the event, the contest witnessed over 150+ participants. The event received a very positive response from the youngsters who were willing to try their shot at winning. Participants bit into their shawarmas as their friends, family and bystanders stood alongside to cheer them up. The competition winners were provided with gift vouchers while all the participants were given discount coupons each.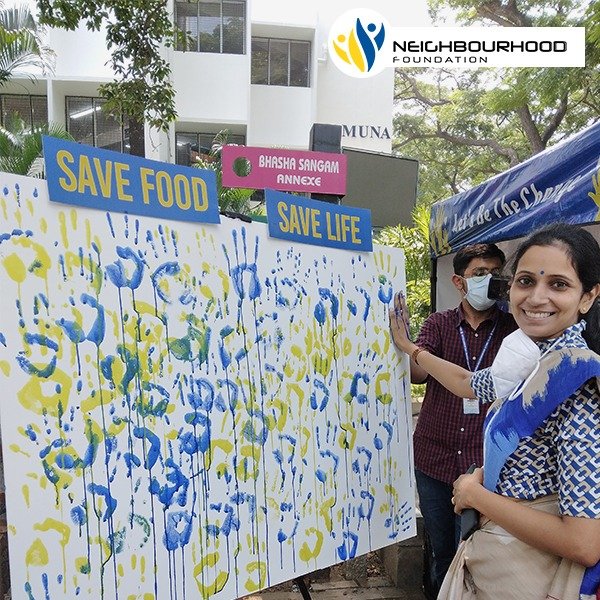 SAVE FOOD SAVE LIFE CAMPAIGN
Save Food, Save Life is an awareness campaign that is organized for the purpose to spread awareness about food wastage and the importance of saving food among students. It is reported that the world overall wastes about 1.3 billion tonnes of food a year, while Indians, too, waste as much food as the whole of the UK consumes. If each one of the 7 billion folks on this planet chooses to eat mindfully, not goaded or driven by greed or want, we would have sufficient food for the starving millions, too.
This awareness campaign was done in collaboration with Dwaraka Doss Goverdhan Doss Vaishnav College (Arumbakkam) with the Department of Bachelor of Business Administration. The students will be showing their support to our campaign by giving handprints to the save food save life support board. The students showed greater interest in the campaign. Overall 250 students from various departments participated in the campaign and 128 students enrolled as volunteers for the Neighbourhood Foundation.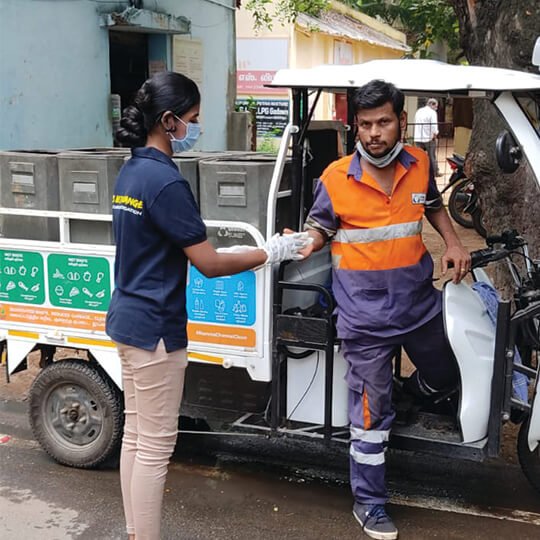 International Coffee Day 2021
Honouring the frontline workers with a cup of coffee!
On October 01 2021, on the occasion of International Coffee Day, Neighbourhood Foundation got to the grounds to provide 100 free cups of coffee to frontline sanitary workers of Chennai city in collaboration with Madras Coffee House, as a mark of respect to those sweepers, rag pickers, cleaners and manual scavengers around Alandur, Saidapet, Guindy around 12:00 P.M and 03:00 P.M. The frontline sanitary workers were some of the most under-appreciated labourers of the society who work around the clock to support the massive infrastructure of such a massive urban agglomeration like Chennai. Sanitary workers of any category must not be ignored or taken lightly or ill-treated at any time since their absence will potentially lead the society to decay.
Neighbourhood Foundation: Pani Puri Challenge: October 1
On October 1, Friday Neighbourhood Foundation conducted an eating contest named Pani Puri Challenge at a well-known food joint, Street Snacc situated at Wellington Estate, Egmore, Chennai. The contest was organized as a fundraising event where the registration fees paid by participants, was taken in as funds to support NHF's Feed@100 program, that is used to feed 5 meals to homeless people and animals. From individual participants on their own to group of friends and family took part as participants on that evening. The aim of this event was to help participants understand the importance of food by feeding them with it for the money they paid. In this contest, participating contestants will have to eat 15 stuffed puris of usual sizes with the jal jeera pani in the shortest duration possible. The person who finished the contest in the shortest duration will be the winner.